Vehicle Lighting
Featuring GoLight Spotlights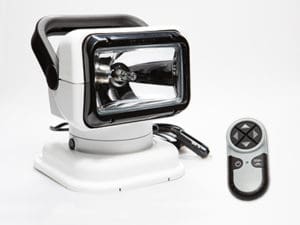 There are lights and then there are GoLight lights. These are rugged vehicle spotlights that have been put through the harshest weather conditions on earth including Afghanistan desert heat and Alaskan winters.
GoLight is commited to amazing customer support and stand behind their products. Dakota Battery proudly carries and installs GoLights and other LED lighting for your vehicle.
---
Remote Vehicle Lighting
Vehicle spotlights have existed for years, but focusing them on a specific area required an operator to manually adjust the light. With remote lighting, the operator can use a remote inside the vehicle making on-the-fly adjustments easier. The remote can be used by anyone in the vehicle so the driver can concentrate on maneuvering safely.
Halogen or LED?
There are many options available for your vehicle lighting. There are many different conditions that vehicles have to be set up for. At Dakota Battery we pride ourselves on finding the perfect fit for your needs. If LED works best, then that is what we will do. If you prefer Halogen, then that is an option also. You have options and at Dakota Battery we will do our best to do what is needed for your vehicle and needs.
Check With Us For Your Vehicle Lighting Needs!
Just let us know what your needs are and our specialists will advise you on the best course of action!