We proudly offer Deka Batteries, as well as other popular brands. The battery brands we carry include Deka, Mighty Max and Power Sonic.
* We do NOT sell Lithium Batteries*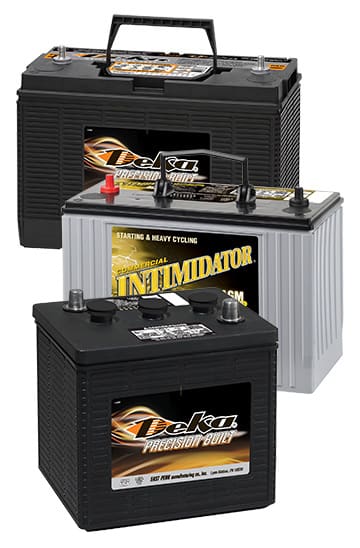 East Penn has the best selection of batteries used for commercial vehicles, like heavy-duty trucks. When your job depends on it, you can't compromise quality – and East Penn has the best quality batteries available!
Deka Flooded Group 31 batteries fit most commercial trucks and contain deep-pocket envelop separators that help extend the battery life and protect them from shorts. The anchor locks are secured at the bottom, protecting the battery from vibration and extending its life. You also get the added bonus of maintenance-free flush covers so you can easily install, replace, and clean it.
Intimidator AGM Group 31 batteries fit most commercial trucks and have twice the cycle life of other flooded designs. They also have up to twenty times the vibration resistance! They also feature Heavy-Duty Power-Perform™ plates that optimize the life, performance, and power of the battery, even under deep cycle service. You also don't have to worry about acid spills with its Absorbed Glass Mat technology.
Find Your Perfect Batteries For Your Needs
Our specialists will ask a few questions about your vehicle and recommend the best battery for you.